Feeling Finished at 40? Now is the Perfect Age to Buy a Franchise
11th February 2020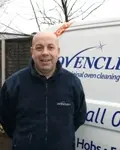 Richard Metcalfe
80.8% of Ovenclean franchise owners were aged 40 years or older when they bought their oven cleaning businesses. The average start age of a new Ovenclean franchisee is 47, with ages ranging from 28 to 67 years old when they became part of the Ovenclean network.
In 2019, the number of self-employed workers increased by 90,000 to reach a record high of 4.93 million in the three months to March 2019. [1]
Changing careers over 40 can be a daunting life decision, however this research suggests the most popular age to start a franchise cleaning business is in your fifties, followed closely by forties.
This is likely dependant on a number of factors including investment, experience, work life balance and franchise support. For most, forties and fifties represent a time of financial security. Statista UK notes a correlation between cash savings and age, due to individual priorities. [2] Ages 18-34 are more likely to be saving for large purchases such as a car or house, whereas over forties are likely to have no mortgage and spare capital for a new business.

Richard Metcalfe, Ovenclean franchisee since 2016 commented:
"After working in operational management for over 25 years, I turned to franchising because I wanted a career that offered financial security and had the potential to generate a great income."
An additional explanation for 40+ being the most popular age to buy a franchise is down to the work, life balance aspect. Owning a franchise allows the franchisee to manage their own diary, permitting more time for family, holidays and hobbies.
The final explanation relates to the support franchisees receive from a franchise company. Starting a business alone over 40 comes with risks, especially if there is no prior experience in the industry.
60% of new businesses in the UK will fail within three years, and 20% will close within just 12 months.[3] This statistic could be linked to a lack of training, experience and support. Whereas reputable franchise companies, like Ovenclean offer full ongoing technical, business, sales and marketing training, so no experience is necessary.

Tim Harris, Managing Director of Ovenclean commented:
"We are seeing an increasing shift towards franchising, especially in the over 40s. With full training, marketing and business support – franchising is the perfect solution for an over forties career change."
In the UK alone, the number of franchisee-owned businesses has increased by 14% in two years with most of the businesses, on average, turning over more than £250,000 every year[4]. It is therefore little surprise that individuals who are facing critical career change decisions now view the option of franchising as a viable alternative to full-time work.
Find out more about franchising with Ovenclean by clicking below
[1] Office for National Statistics, Labour market economic commentary: May 2019.
[2] Statista UK Mean amount of cash savings in the United Kingdom (UK) in 2017, by age group.
[3] Telegraph - Start-ups across the UK are going bust - they need more careful management for our economy to boom.
[4] British Franchise Association: Franchise Industry Research