Latest Wilkins Chimney Sweep Franchisee Smashes Start Up Records!
13th October 2020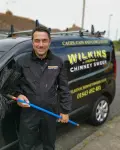 Keiron Harding, latest franchisee to join Darren Taylor's Wilkins Chimney Sweep Franchise, has just completed his first month of sweeping and banked an impressive £6,000.
Keiron took advantage of the Wilkins 'No Money Down' offer launched during the pandemic, designed to help those who had been made unemployed, redundant or were just seeking a career change, as a result of the pandemic. All his set up costs are covered minus the van; the franchise fee is repaid with interest over four years, with monthly repayments starting in September 2021.
Like all sweeps, Keiron was put through the intensive Wilkins training course which consists of one week of office-based training, learning how to use the franchise's bespoke digital app ProSweep and general business administration, followed by three weeks of real-time chimney sweeping with current franchisees, sweeping over 100 chimneys of all shapes and sizes across the UK. The next training sessions for new sweeps will take place in Spring 2021.
Richard Bryan, General Manager of Wilkins Chimney Sweep said,
'Keiron's success is more judgement than luck; he really did his due diligence before buying his franchise, finding out how many sweeps there were in his area, making absolutely sure he had a market to sell to. Alongside the traditional forms of marketing like ad words and leaflets he has also made full use of Facebook and Instagram, posting regularly and taking multiple bookings via social media. He is personable and a great communicator and as his results show, he is doing a great job.'
Keiron said,
'It's an unbelievable start; more than I could have hoped for. Following my training my family and I began leaflet dropping in areas close to my house and after that it's just gone mad. I've now got 180 customers on my books who will hopefully all rebook for next year and some great Trustpilot reviews too. The phone and emails just never stop; I'm working six days a week, sweeping up to seven chimneys a day so yes I'm busy but it's great not to have to worry about where the next booking is coming from.'
Asked if he had come across any interesting chimney cleaning scenarios already Keiron said,
'Recently I was booked to sweep a chimney but failed to get the rods clean through to the top so I came back the next day with my camera, to discover a thick coating of creosote running up the inside of the chimney which could have been potentially fatal. People still need a lot of education about the dangers of an unswept chimney but I'm glad I was there to help.'
An efficient PA system has also helped Keiron to manage his diary and bookings,
'One of the other Wilkins franchisees suggested I sign up to the optional virtual PA system we can use and it was one of the best bits of advice I've been given; they work hand in hand with Wilkins head office and the ProSweep app, booking my sweeps, dealing with enquiries, producing a list of appointments for me each day, with each one booked in a geographically consecutive order, saving me time and fuel. I couldn't do it without them.'
He also praised the support he had received from Wilkins Head Office,
'Everyone has been great, from Darren and Richard down to the other franchisees, so many people to ask advice from and all willing to help. I'm not quite up to sweeping the same number of chimneys a day as the more experienced sweeps, but I'm getting there!'
Managing Director of Taylor Made Franchising who own Wilkins Chimney Sweep, Darren Taylor said,
'Keiron has been the most fantastic success story and we couldn't be more delighted for him. Having left his job in a specialist school during lockdown, he decided to make a big career change and run his own franchise instead. Obviously, we've supported him every step of the way, but he has worked so hard and really put his shoulder to the wheel, demonstrating exactly the kind of work ethic and determination that makes a great franchisee. This is still early days and our Head Office team at Wilkins are in touch with him almost daily, but we couldn't be happier for him and look forward to helping him build a hugely successful business over the coming years.'
He concluded,
'The No Money Down offer is still available however we can't train anymore sweeps until early 2021 as our franchisees are too busy sweeping chimneys themselves; from now until December is their busiest period of the year.
Find out more about the Wilkins Chimney Sweep Franchise and starting your own successful business in 2021!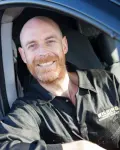 Wilkins Chimney Sweep celebrates most successful month since records began!
30th November 2020
Wilkins Chimney Sweep has recorded its most successful month of sweeping and income since records began.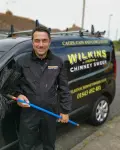 Wilkins Chimney Sweep welcomes new franchisee during COVID
25th August 2020
Before buying his Wilkins Chimney Sweep franchise, Keiron Harding worked at a specialist children's school in Kent.
What

Our Franchisees Say

I liked the idea of working for myself doing something more hands on than I had been used to as an ex-surveyor. Franchising gave me professional backup, training and an established name to use.

WILKINS CHIMNEY SWEEP have been very supportive in providing both practical training, and also advice on how to run a business with accounting and tax information.
Why

Choose Us

Build a sustainable, ethical, saleable and scalable business

Annual repeat business with excellent cash flow!

We are the only bfa accredited chimney sweeping franchise
Related

Franchise Categories
Related

Franchise Types