Wilkins Chimney Sweep Celebrates
9th November 2021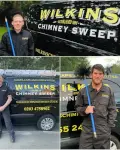 Wilkins Chimney Sweep is celebrating after welcoming three new franchisees to the network and being named as a finalist in the 'Business to Consumer' category of the WorkBuzz Best Franchise Awards.
New franchisees Graham Ellicot, Brendan Dunne and Kris McLernon have been awarded territories in Sittingbourne, Egham and Lanarkshire respectively.
As is typical with franchising, the three new franchisees come from very different working backgrounds; Graham was a lorry driver for 23 years, Brendan spent 32 years as a London black cab driver and Kris spent 14 years in the British Army as a recovery mechanic in the Royal Electrical and Mechanical Engineers.
Each sweep has been put through the rigorous Wilkins Chimney Sweep training programme, sweeping over 100 chimneys each and receiving training on fitting cages, caps and cowls. They have now returned to their territories and launched their businesses with the full support of the Wilkins head office team.
Commenting on the help he has received since joining Wilkins, Graham Ellicot said:
"It has been amazing; everyone has been so welcoming and helpful. Within a couple of weeks, I felt like part of the family. Lisa and Alan put me at my ease and answered any questions I had. They are always there, at the end of a phone, email or zoom call. I really enjoyed my training and now it's all systems go sweeping chimneys in Kent."
More good news came as Wilkins was named as a finalist in the 'Business to Consumer' category of the WorkBuzz, Best Franchise Awards.
Earlier in 2021, WorkBuzz anonymously surveyed all the Wilkins Chimney Sweep franchisees, asking them their thoughts about the franchise, value for money, support available etc. Their answers gave the franchise an overall 'Franchise Satisfaction' score and the top three scores of all in the 'Business To Consumer' category, became the finalists. The winners will be announced at the BFA conference on 30 November 2021 in Birmingham.
Lisa Kimber, franchise manager at Wilkins Chimney Sweep who is celebrating it's 10th anniversary as a franchise this year said:
"We are absolutely delighted to welcome Kris, Brendan and Graham to the network. It has been a pleasure to help them to set up their new businesses, from putting them through their chimney sweep training to helping them with administration, marketing, social media and advertising. We keep in close contact with our new franchisees in these early days, supporting and encouraging them, using our experience to help them build strong, sustainable, and successful businesses. One of the biggest bonuses to all franchisees is their access to the rest of the network; our franchise network is always willing to help each other out and the new franchisees find this invaluable."
She continued:
"Being named as a finalist in the Best Franchise Awards is a complete joy as well. We were lucky enough to win the category in 2019 so we're keeping our fingers crossed for a good result. We'd like to thank our franchisees for taking part in the survey and scoring us so highly that we reached the finals. We have had some incredible results over the last few years, record breaking turn over, record expansion of territories, new franchisees, it's great to know that all our hard work is paying off and we're looking forward to 2022 and helping more people build their own successful Wilkins Chimney Sweeping businesses."
Find out more about the Wilkins Chimney Sweep Franchise by clicking below now!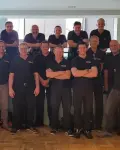 Wilkins Chimney Sweep Holds Annual Franchisee Conference
23rd June 2022
Following a two-year break, due to the Covid pandemic, Wilkins Chimney Sweep held their annual franchisee conference in Birmingham.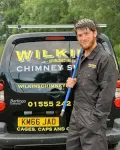 Wilkins Chimney Sweep Franchisee Wins At Scottish Ex-Forces Business Awards
7th June 2022
Wilkins Chimney Sweep Lanarkshire franchise owner, Kris McLernon, was a winner at the 2022 Scottish Ex-Forces in Business Awards.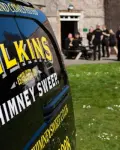 Wilkins Chimney Sweep Releases Commemorative eBook
19th October 2021
Wilkins Chimney Sweep celebrates 10 years as a franchise with a commemorative eBook
What

Our Franchisees Say

I liked the idea of working for myself doing something more hands on than I had been used to as an ex-surveyor. Franchising gave me professional backup, training and an established name to use.

WILKINS CHIMNEY SWEEP have been very supportive in providing both practical training, and also advice on how to run a business with accounting and tax information.
Why

Choose Us

Annual repeat business with excellent cash flow!

Build a sustainable, ethical, saleable and scalable business

We are the only bfa accredited chimney sweeping franchise
Related

Franchise Categories
Related

Franchise Types