Wilkins Chimney Sweep blast franchisees clean away… with PowerClean training day!
21st March 2017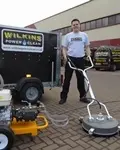 Adrian Steel, Wilkins Chimney Sweep Basingstoke, tests Wilkins Power Clean
Award-winning bfa member Wilkins Chimney Sweep, has recently held a training day to teach their franchisees how to incorporate the brand new service into their existing franchise and how to physically clean an outdoor area, using the new Wilkins PowerClean system.
Wilkins PowerClean is a patio, driveway and external hard surface jet washing system that has been introduced into the Wilkins franchise package, to ensure franchisees have a complete 'year-round' business offering. The product is trailer-based, allowing for easy delivery and storage.
PowerClean was initially trialled by franchisee Adrian Steel, owner of Wilkins Chimney Sweep (North Hants), who saw an immediate and dramatic increase in profits when he combined the new jet washing offering with his existing chimney sweeping services.
Currently 5 of the 14 existing franchisees operate the PowerClean option, which became an integral part of all franchises sold from March 2016.
Five franchisees attended the training day, held at the equipment supplier's headquarters in Northampton. Franchisees received class-room based training on running the new business at an administrative level, followed by practical training on cleaning an exterior surface, with the new state of the art power washing equipment.
PowerClean is suitable for cleaning large and small external areas, using both flat plate power washers and the more traditional 'lance' equipment.
Training included the optional use of chemicals to treat specific problem areas, re-sanding and the application of an after-clean sealant. Franchisees were taught to thoroughly survey the area to be cleaned to ensure an accurate quotation and check that minimal damage would occur to the existing surface. They were also coached on client communication and satisfaction techniques.
Franchisor Peter Harris said:
"It was an exciting day for Wilkins, launching this new product to our franchisees, which has performed so incredibly well in trials with Adrian in Hampshire. We're delighted that we've been able to develop this additional income stream, not only one that 'the boys' appear to enjoy using but also one that dovetails perfectly with their existing chimney sweeping businesses. Many customers they visit to clean their patio see the branded van and ask them to come back and clean their chimney and vice versa, so each service is a sales funnel for the other. Win win!"
Franchisee Adrian Steel, who pioneered the service said:
"I love my PowerClean business for two reasons; firstly the reaction I get from my customers. One of the potential 'downsides' of being a chimney sweep is that no one can see if I have swept their chimney well, they just have to trust that I have, but the moment I call a customer out to see their once black and mouldy patio, now transformed into a bright, clean area that they can now use for eating outdoors or for the kids to play on, not to mention the added light being poured back into the house, as it reflects off the clean surface, makes me really proud of the job that I do. Most people have no idea of the difference a patio clean will make to their home and are utterly delighted with the results.
Secondly, on a practical note, being in a small trailer, it's really easy to store my PowerClean equipment when I'm busy sweeping chimneys. How many businesses can you say that about? I also like the similarities to my current chimney sweeping job, it's still physically demanding, I'm still out and about in the van a lot, I'm still meeting customers and building up repeat business and, with our new tablet-based CRM system, I'm running a seriously slick business."
If you would like to know more about running your own Wilkins Chimney Sweep Chimney Sweeping and PowerClean business just click below
What

Our Franchisees Say

WILKINS CHIMNEY SWEEP have been very supportive in providing both practical training, and also advice on how to run a business with accounting and tax information.

I liked the idea of working for myself doing something more hands on than I had been used to as an ex-surveyor. Franchising gave me professional backup, training and an established name to use.
Why

Choose Us

Annual repeat business with excellent cash flow!

We are the only bfa accredited chimney sweeping franchise

Build a sustainable, ethical, saleable and scalable business
Related

Franchise Categories
Related

Franchise Types