Wilkins Chimney Sweep Franchise
Wilkins Chimney Sweep Business
Van-based Multi-Sweep Franchise

What attracted a Surveyor, former Senior Manager,
Pest Control Franchisee, Police Inspector, and other
Small Business Owners?
Was it a business model that offers:
Multiple revenue streams - enjoy a stable income throughout the year
Positive cash flow - payment is typically received at each job
Repeat business - build a customer base to ultimately support multiple vans

Market leading equipment - the best equipment and systems in the industry
Recession resistant services - periodic cleaning services required year in, year out
bfa accredited member - the Wilkins Chimney Sweep Business practice and actively promote ethical franchising
The Wilkins Chimney Sweep Business Opportunity:
The Wilkins Chimney Sweep Business was established in 1895. The first franchisees joined the brand in 2011 and the business now has ten (until you join them!) franchisees operating the proven business model up and down the UK. Wilkins are now looking to 'sweep' across the country!
Managing Director, Peter Harris, is a member of the steering committee for the Association of Professional Independent Chimney Sweeps (APICS) and is a HETAS Approved Chimney Sweep. Louise Harris, Franchise Director is a pro-active member of the bfa and EWIF, embracing and promoting ethical franchising in the UK and is a qualified business trainer.
Replace a middle-management salary
This is a professional business model for people serious about building a saleable asset – you can expect to turn a profit in your first year, subject to local conditions and full effort. Depending on your charges and local drive for business, you should be able to replace a middle-managers salary by year three and continue to grow from there.
Franchisees and their teams deliver a range of seasonal domestic and commercial cleaning services including:
Chimneys of fireplaces and wood burner flues
Supply and fitting of cages, caps and cowls
Pressure washing paths, patios and driveways
Car parks and walkway surface cleaning
Contracts with letting agents and landlords
CCTV inspections and surveys
The Wilkins Chimney Sweep multi-award winning business model appeals to professionals looking to take control of their future by developing their own local van based business.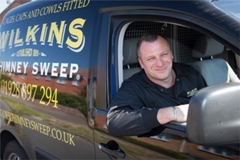 "Wilkins are able to support franchisees through leveraging purchasing power and through offering support services that would normally be financially restrictive for a small business. By doing so it makes my business more profitable.
In addition to this, the knowledge base available to me on technical and commercial issues are extensive" John Baldacchino – Wilkins Chimney Sweep (West Cheshire)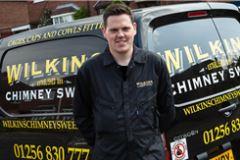 "Whilst I enjoyed my previous employed role, I was constantly aware that I wanted a new challenge away from sales, as well as the opportunity to be my own boss.
After lots of research regarding the different franchises available I discovered Wilkins Chimney Sweep"… Adrian Steel – Wilkins Chimney Sweep (North Hampshire)
The investment:
The franchise fee is 'low' at £5,000 plus but there is additional investment in the training, kit, marketing launch, clothing, technology and van.
Your initial investment is £13,100 plus VAT and it is possible to borrow up to 70% of this initial investment through the major high street banks that have endorsed the Wilkins Chimney Sweep model.
If you are serious about becoming your own boss and building a saleable asset for your future then the Wilkins Chimney Sweep Business want to hear from you!
Find out more about the Wilkins Chimney Sweep Business, the leading Van-based Multi-Sweep Franchise. Click the button below now!