Mr. Electric Franchise
News
Features
Events
Resales
Mr. Electric Business Opportunity
Electrical Management Franchise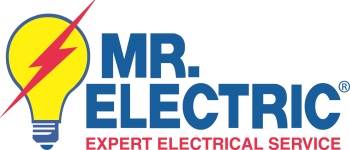 Are you an ambitious trade professional?
Or an entrepreneur seeking a low risk, high profit investment for your new business?
With a Mr. Electric Business you can enjoy the strength of a brand that makes it easier to win big commercial contracts, access key accounts and an in-house marketing set up that will increase your sales – last year franchisees saw a 28% increase.
By joining the Mr. Electric Business network you get peace of mind with guaranteed leads and the support to turn these leads into customers. You can grow a successful business, to help you achieve your ambitions. Mr.Electric franchise owners use easy financial controls and streamlined systems; helping you to achieve your ambitions.
Mr. Electric makes it easy to run your own business with a model built around four promises:

1. Easy financial management tools

2. Streamlined systems

3. Guaranteed leads

4. Ongoing support to reach your
ambitions
The Mr. Electric franchise guarantees to deliver leads:
You will get more new and repeat business through leading SEO and PPC marketing, exclusive access to key accounts and fortnightly emails to your commercial and domestic customers.
SEO/ PPC leads:

On average, receive 5-10 leads everyday
On average, 70% of leads become customers
On average, the order value is £170.00
What does this mean? 36 leads will bring in 25 new customers, every week. An average order value of £170.00 will mean £4,275.00 in sales every week. That's over £222,000.00 a year.
Plus, in-house training and support for upselling will give you every opportunity to increase your sales, and build a long-term relationship with your customer.
Training & Support:

Mr. Electric gives you the chance to build a profitable business using a strong brand. With an in-house team who have decades of experience building successful franchises across the UK, you have the support at hand to ask for advice.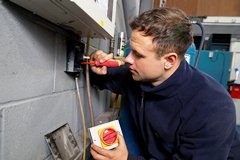 You have your own marketing team just a phone call away to produce material to help you with projects that matter to you, and with a UK network of franchisees at hand to share best practice tips.
You will have the tools and support on hand to manage your finances and quickly increase your profits. An in-house Franchise Consultant will work with you to set your financial targets and help you measure how you perform each month.
The Franchise Consultant will also work with you to create and measure your cash flow and P&L forecasts, making recommendations for you to increase your profits quickly.
Plus, working side by side with the cloud customer management software, you have access to the financial tools that make it easy to track how much you're invoicing, if payments have been made and to calculate your tax and VAT returns.
The Mr. Electric Business Systems:

Keep on top of all of your day-to-day activities and make running your business as easy as possible. Mr. Electric® has easy to use, cloud customer management technology that gives you the opportunity to:
track jobs
send invoices
manage payroll

Plus, with an in-house specialist and a network of UK franchisees who successfully use the software, you have help and support whenever you need it.
Do you want to move your business forward?
A Mr. Electric Business all starts with an awareness seminar, available at their Bromsgrove Head Office, or at your home if this is more suitable. From here you will get a better understanding of the type of profits you can realistically make.
A Mr. Electric franchise is available for a competitive investment of £24,970, available across a flexible period, for a licence fee to secure your exclusive area.
Find out more about the Mr. Electric Business, the successful Electrical Management Franchise. Click the button below now!