The answer to redundancy and early retirmement
Whilst retirement and redundancy can present wildly different challenges, they both can equally serve up a few universal issues. Most notably this may include financial restrictions, a loss of goal setting and a future that may seem decidedly restricted.
An answer to this is becoming a franchise owner. This is your opportunity to be able to do a job that you enjoy and have an income for yourself rather than earning money for someone else.
You will find that some franchisors do not require any previous experience or qualifications as they will provide you with full training.
Although, similar to starting a business on your own it will take hard work and dedication. Here we take a close look at the advantages of franchise ownership:
Complete flexibility
Franchise ownership is an exciting way of launching and owning a business. It's also seriously flexible, providing for hours that can fit completely around your lifestyle. The advantage of a franchise is that unlike starting a business from scratch you already have a proven business model with support and assistance every step of the way.
For example; take a look at Sweets and Treats, a Confectionary Business. They offer a unique franchise opportunity, reported as the best franchise available from their members! With them you can run your own Confectionary Business from home either full time or part time.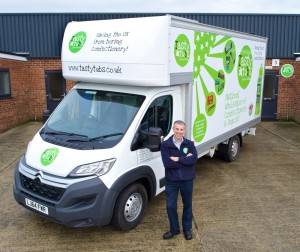 Tasty Tubs, a mobile confectionary supply business provides you with the opportunity to run a business which has already proved its capacity to deliver products and services profitably to an identified market.
To give you a head start Tasty Tubs aim to give new franchise owners a number of retailers on day 1 (dependent on area). You will then be responsible for building your own customer base of retailers.
There is also Ovenu, the Specialist Oven Cleaning Business. This is a simple and profitable franchise opportunity which has no restrictions as to age, sex or working hours. You can have an earning potential of £1,000 per week and have flexibility to fit around your lifestyle.
A world of business options with something to suit everyone
Franchise opportunities have never been so wide and varied, and today there are literally thousands of opportunities that span every industry and business type. For example there are franchises for domesitc cleaning, delivery, automotive to home improvements and much, much more.
Time to dedicate to growing your business
The best thing about some franchises, such as FiltaFry is that you can start as a 'man in a van' however you can have the opportunity to expand so that you can instead work on your business rather than in your business.
FiltaFry Plus gives you the opportunity to run a successful business from home and to develop a huge network of clients in a short period of time as well as fantastic growth potential.
Explore Further
If you're ready to get started and explore the world of franchise possibilities then you can search through the latest franchise packages in a flash with our van franchise search tool.
Home-based franchises you might be interested in..